Welcome to CR Ranch
After several month's discussing things Cathey and I have decided to hold a dispersal sale of all our horses.
We've enjoyed every every minute that we spent breeding and raising Driftwood horses and we'd like to think that we helped to improve the line in some small way. But even more than that we're extremely grateful for all the wonderful people we've met and the friendships that have developed. There's no better feeling then when one of our customers sends us pictures and updates to thank us for helping them hook up with the perfect partner.
Currently our sale is scheduled for October 7th. The sale will be live and online. We'll be posting updates on our website CR Ranch www.crranch.ca Meanwhile we've decided that any mares that aren't in foal this spring will be put into training. The plan is to 60 days or so on anything 2 years old and up. We'll see how that goes.
Go to Stallions and Fillies pages to see 2023 foals. We are continuing to enter foals as we get more pictures.
Update: Sale is booked for Oct 7th at the Agim Centre in Rimbey Ab. Sale starts 1pm.
All horses are listed for sale meaning they will be made available at the Oct 7th sale.
Horses that are started and riding will lead through the sale ring. We will be riding them the morning of the sale and you're welcome to check them out.
Back in 1991 Rick decided to start raising a few colts that he could start then sell. Not sure which way he wanted to go we went through more than a few different bloodlines trying to find the one that worked for us.
As time went on we started to find that both Hancock and Leo bred horses seemed to stand up the best for the working cowboys that we sold our young geldings to.
Then in the late 90s Rick bought a young gelding at a sale when he heard a name on the pedigree that he'd been looking for. That name was Driftwood, and it changed our outlook almost overnight.
There weren't a lot of Driftwoods in the country back then but a few years later we were fortunate enough to meet Don & Iren Woitte and form a lasting friendship. Don was also a fan of the Driftwood horses and we were lucky enough to purchase Fintry Driftwood Ike from him in 2006. Both of these horses demonstrated the temperament and athletic ability that Driftwoods are so well known for. We were also able to purchase several mares and fillies from the Woitte's that are daughters of their Driftwood sire, Fintry Drift Hancock.
We also carry several horses with the MY brand from Idaho. They are known as the Premier Driftwood Breeders in the Northwest, and we recently aquired some Driftwood X Sun Frost mares from Mark Weir's progam in southern Alberta.
Now after years of breeding mares, culling, and hundreds of miles on both sides of the border we believe that we are starting to get a nice group of mares together that carry the Driftwood line.
Here at CR Ranch we do our best to raise good "usin" horses that you can ride all week on the pasture and haul to a rodeo on the weekend.
So give us a call or stop by for a coffee. We'll do our best to set you up with the right horse for whatever direction you want to go.
Driftwood
"Driftwood" a bay stallion was foaled in 1932. His sire "Miller Boy" by "Hobart Horse" who was thought to be sired by "John Wilkins" by "Peter McCue." "Miller Boy" was out of "Wilie" a daughter of "Texas Chief." "Driftwoods" dam was "The Comer Mare" by "Barlow" by "Lock's Rondo." The combination of early speed sent the young stallion to the race track where he was successfully matched at distances from 220 yards to 3/8's of a mile. In the late 1930's he ended up in the hands of the Nichols' family at Gilbert, Arizona. While he was with the Nichols' he was matched against, and outran, the legendary "Clabber" a World's Champion Quarter Running Horse.
Buck Nichols introduced "Driftwood" to the roping arena and rodeoed on the horse. In 1941 Asbury Schell had him and nicknamed him "Speedy" cause of the way he could catch cattle over a long roping score. Speedy, as he was called by ropers, was a great rope horse and was used in team roping , calf roping, steer tripping and bulldogging all in the same day. As a nine year old "Driftwood" became a fixture at the big rodeos around the country. In 1943 Katy & Channing Peake bought "Driftwood" from Schell for $1,500 and moved him to Rancho Jabali where they registered him with the AQHA and was retired to stud.
Driftwood stood anywhere from 14.3 to 15 hands and showed adequate bone and foot size. Driftwood was a very well balanced individual and showed an alertness that is still evident in his progeny. He was an extremely fast horse and devoured ducking and diving calves. He was a tough horse and his sturdiness was shown in his years of racing and traveling on the rodeo circuit.
"Driftwoods" ability to sire quick speed, performance ability, the mental attitude to retain training, functional conformation and physical stamina to stand up under hard use, and carry the traits on down through the generations, is what made "Driftwood" unique among stallions. Many stallions are out standing performers themselves but are not able to pass that same talent on down through the generations. "Driftwood" did. They are known to be very trainable and excellent at any event they were asked to perform in. Driftwood has had winners in virtually every event possible including barrel racing, reining, working cow horse, roping, cutting and western riding. They are known to be graceful movers and are very cowy. They are also known to be huge stoppers.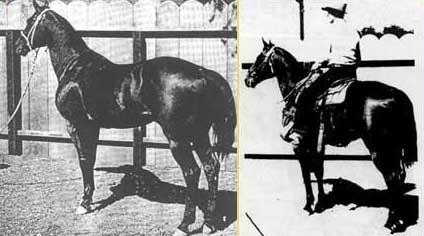 Barrel racers are finding the Driftwoods make excellent barrel horses. They have a natural rate to them and have a quick start out of the barrel. They are easy to train and can handle the pressures of training. Great barrel horse that carry Driftwood blood include French Flash Hawk aka Bozo who was a 4 time PRCA barrel racing horse of the year and Firewater Fiesta who is a 1 time PRCA barrel racing horse of the year.
During the following seventeen years, "Driftwood" sired a whole arena full of top performers in the show ring, the race track, and the rodeo arena. For over a half a century a bay stallion has passed down his own tremendous performance ability and, in the process given horsemen something that they were proud to ride. An old rodeo adage is, "A man has to be well mounted to win" and with a "Driftwood" he was. Today, sixty plus years after he was foaled, his blood is still sought after by cowboys. "Driftwood" died on October, 20 1960. He left many great son's and daughter's of his such as "Hallie Wood", "Woodwind", "Henny Penny Peake", "Brown Beulah", "Wood Wasp", "Drifty", "Woodfern", "Miss Linwood", "O See O", "Judy Sue", "Annie Wood", "Kitty Wood", "Rosewood", "Drifting Sage", "Easy Keeper", "Chelena", "Maestro", "Speedy II", "Poker Chip", "Speedy Wood", "Speedy Peake", and "Driftwood Ike", as well as a herd of others.
Quotes
Forty-seven World Championships and 170 NFR Qualifiers... the Driftwoods are Pro Rodeo's most successful performance horses!
The only way Driftwood can hurt a horse's pedigree is if he doesn't have any Driftwood in it!
When you think great horses you have to think Driftwoods.
There was something in that Driftwood blood. His colts are quiet, athletic, and did whatever you wanted. There will never be another stallion like him.